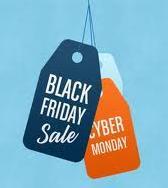 Religious Retailers all know about Black Friday and Cyber Monday. For McVan Retailers, there's also McVan WINNERS TUESDAY™. So, what is McVan WINNERS TUESDAY™?

McVan WINNERS TUESDAY™, it's the Tuesday before the two biggest shopping days of the year: Black Friday and Cyber Monday. By now, you've tuned up your website, created holiday promotions, sent Black Friday and Cyber Monday email messages, and ensured adequate staffing for the rush. So, here are four easy last-minute actions to maximize your success.
1. Break into consumers' already planned shopping lists on Thanksgiving Day.

Many religious gift purchases coincide with the holidays. Many are impulse buys. Last-minute emails carrying existing or surprise offers will find a receptive audience on Thanksgiving Day. As people meet family and friends, they may have overlooked holiday gifts or conclude that cousin Joe would appreciate a fine religious gift far more than yet another sweater or tie.

2. On Black Friday, capture the business of anxious, impatient shoppers while they're waiting in lines at other stores.
Send Black Friday offers via emails, Facebook posts, and Tweets. The last thing that shoppers want to do is to wait in line while the day slips away. With email messages that change during the day, McVan Retailers can remind shoppers about the items and deals they offer, and how close and friendly their store is.

3.Turn your shoppers' Black Friday Sales Receipts into follow-on Reward business.
Consider printing time-sensitive %-off deals on your sales receipts as a reward for those who bought from you on Black Friday. Ensure you'll retain the business of those who may have forgotten an item during their visit to your store.

4. Survey your buyers and those who didn't buy to make your 2013 even better.
Ask them one of the most important questions in the world of Retailing: "What's the single most important thing you want us to offer next year?" A different product? A new service? You can distribute simple note cards within your store for shoppers to fill out. And, you can create simple surveys on your website too.

So, here's to McVan Winners' Tuesday ™ and the McVan Retailers who take advantage of it. McVan Retailers: for any popular items that you would like to ramp on, contact your McVan Account Manager for the Black Friday Special and recommendations on Top Selling Items.
As always, our very best wishes for a happy Thanksgiving. Want to Become a McVan Retailer? Find out how!