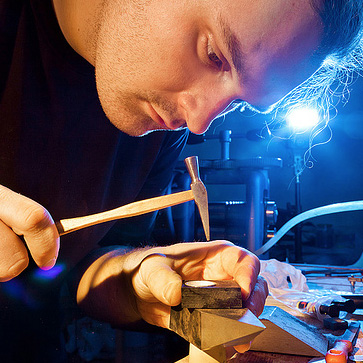 As a retailer, you can have the most phenomenal sales platform in place to sell your products, but your profit potential will always be directly tied to the reliability of your supplier. Retail jewelry is a competitive market and suppliers can promise you the world trying to get your business. But unless your supplier is the reliable, quality producer of products you need, the promises will come up empty.
When evaluating your current supplier or when interviewing a new one, the following checklist should serve as your guide to making the right choice:
Key Factor #1: Quality products and warranty
Customers purchase products from you, the retailer, so the quality of those products is a reflection of your business, not your suppliers. You want to ensure your supplier offers extremely high-quality products that are going to last. A supplier who stands behind the products they offer won't hesitate to offer warranties on them. Even the best product line sometimes produces a flawed piece. On those rare occasions, you want to be confident you can offer your customer repair or replacement in a timely manner.
Key Factor #2: Customer service
Partner with a supplier who is there when you need them. Place a test call to their customer service line. Do you get a live person or voice mail? How quickly do they respond? Are retailers assigned a dedicated service representative or is it luck of the draw? What hours is customer service available? Can you communicate by either phone or email? Make sure you get a warm and fuzzy feeling from your supplier's customer service team and that they are available at convenient times.
Key Factor #3: Ordering system
You can't sell products if you can't buy them easily and quickly. The old-fashioned visit from a sales rep will never go out of style, but it needs the backup of a user-friendly, online ordering system. Suppliers who offer a simple ordering process with immediate turn around means lower inventory and increased customer satisfaction. Look for a supplier who offers drop-shipping and express ordering.
Key Factor #4: Product line
Jewelry, especially pieces with a religious connotation, is extremely personal. Beauty is in the eye of the beholder, so the piece needs to speak to the purchaser. Some customers want traditional, subtle pieces they find comforting. Others want new, eye-pleasing options that put a modern look on a historical representation. In other words, you need a supplier with an array of designs utilizing a variety of materials.
Key Factor #5: Dependable delivery
In the retail jewelry business, you need to know that when you place a special order, the product must show up on time and in good condition. Partner with a supplier who can guarantee delivery and who utilizes dependable shipping methods.
Key Factor #6: Reputation
We live in a fast-paced, high-tech world where buyers make purchases at warp speed. Before making a purchase, customers perform online searches looking for ratings and recommendations. Nothing takes the place of old-fashioned "word of mouth" as the best referral source available. Partner with a supplier who has a long-standing reputation that has withstood the test of time. Nothing proves longevity like a company that has serviced several generations of a family. If a customer review states "it's the place my parents and grandparents used", look no further. This means they have been around for a long time and they are going to be around in the future.
Your supplier needs to be a part of your team. They need to offer support, training, promotions and dependability. With the right fit, your supplier becomes an integral part of your success.
At McVan, we are committed to our religious jewelry retailers and we've been the #1 choice for over 2,000 retailers. We offer lifetime warranty, fast turnaround, dedicated customer service specialists, and a lot more! Are you a McVan's Retailer yet? Find out how you can become one.