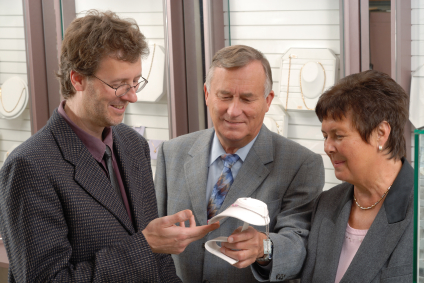 In our previous Retailer Knowledge Sharing series, Dennis shared her story and the challenges she faces as the store manager and owner of the Love Note. She also shared 6 tips for start-up retailers. Now, after being in business for 40 years, Denise shares 7 tips that have helped her shine during the good times and survive through the tough ones.
Tip #1. Customer Service
The customer is priority Number ONE. Customers don't need us retailers, but we need them. Be a servant and go the extra mile. Denise's motto is "The little shop with a BIG Heart." Whatever you do, make sure the customer's experience in your store is exceptional. Get to know your customers by name; it makes them feel special and appreciated. Denise continues to say: "I don't shop more than once, and I rarely spend money at a business that doesn't give basic customer service. To me that means being greeted as soon as I walk in, receiving eye contact from the salesperson, and being asked if I need help in finding something specific."
Tip #2. Reputation
"A good name is more desirable than great riches." (Prov 22:1) A good reputation is worth a million dollars in free advertising. If you provide excellent customer service, you will develop a good reputation. Accountants call it Goodwill. It's the reason customers keep coming back and telling all their friends and relatives about your store. "It gives me great pride that my mother and I have developed and maintained a good reputation within our community. We are now serving the third and fourth generations of our original customers," declares Denise.
Tip #3. Listen to Your Customers
Listen to what your customers are saying or asking since it often turns into a great lead and an opportunity for business growth. Often customers will request items they've seen on EWTN, a religious mail catalog, or through a friend. Take the time to do a little research and find that special item. Offer to put in a special order for them and prayerfully consider carrying the item on a regular basis if it is being featured in a lot of other places. Most of Denise's customers prefer to give her the business rather than ordering online. They do so even if they have to wait for the special order to arrive, as Denise usually absorbs the shipping and handling costs.
Tip #4. Product and Pricing Mix
Look for and only carry products that are of good or great quality at affordable prices. Merchandise quality and price directly affect reputation. Having too many expensive items with large ROIs will give customers the impression you are overpriced on ALL your items. Consider your customer base and their expectations regarding prices and quality. A few more expensive items are good to have on hand for those customers who are looking for something special and unusual. Again, listen to what your customers are saying, especially regarding your prices and selection. Most customers shop frequently and are very knowledgeable when it comes to prices on various types of merchandise.
Tip #5. Be Passionate and Knowledgeable about Your Business
Learn all you can about saints, bibles, scapulars, rosaries, and whatever else customers may be interested in. Customers expect you to be able to help them in spiritual matters of all types. So you must have a good working knowledge of the Catholic and various Christian faiths as well a little knowledge of Judaism.
Tip #6. Get Out There and Sell
Owners really need to get out from behind their desks and work the sales floor. Denise finds that most customers appreciate her personally waiting on them as it lets them know they are extra special. Customers really enjoy knowing they have access to the owner. Most importantly, owners need to get a feel for customers' wants and expectations. Denise mentions, "I myself feel special and important to McVan, Inc. because the owner, Fred Adler, personally calls on me."
Tip #7. Chase People not Dollars
Denise has a little adage that sums up all the above tips: "If you chase the money it will elude you; but if you chase people, the money will follow". Anytime you put your customers first, you are almost guaranteed success.
So, which tip are you planning to implement? Share your experience and opinions in the comments below. We encourage you to contribute to our retailer community! Do you want to share your story? Contact your McVan representative at 800-322-8781. We would love to hear from you!