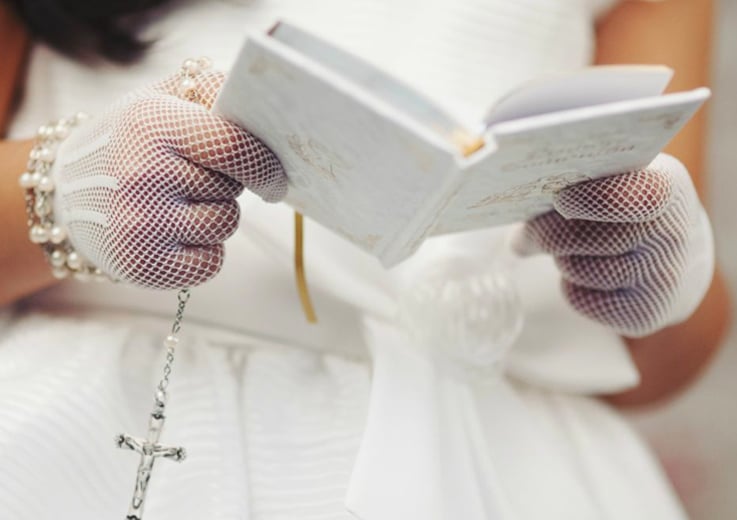 The holidays are a busy time, and the last thing you want is your store to be unprepared for First Communion when it sneaks up on you. Global shortages now affect every corner of commerce. So waiting until the last minute to stock your store for First Communion gifts can have an unfavorable impact with not getting your products for your customers on time.
Why It's Important to Shop Early
A myriad of events and factors have affected supply chains around the world. Virtually every industry has felt the strain of shipping lulls – especially retail. Delays are expected to continue into 2023 and will pose problems well into the spring.
Shortages of Workers Worldwide
The COVID-19 worldwide pandemic created a shortage of workers, especially in those countries where most of the world's products are manufactured. While quarantined and in lockdown, much of the consumer world purchased large quantities of personal electronics leading to a shortage of essential components used to make those items. Additionally, consumers began hoarding items that were already in high demand and in short supply. All this occurred while manufacturing was either at shut down or struggling to recuperate.
Shipping Stalls
Eventually, toilet paper and other items that were sparse in 2021 began to return to the shelves of stores. Still, the world has yet to fully recover. Now, shipping companies are slowed due to low water levels in significant shipping ways in places like Germany. This is also happening on the Mississippi River, where 100 vessels are log jammed. The looming 2023 Covid restrictions in China, the impending recession in the US, and the rising fuel costs from the Russia-Ukraine war have put additional pressure on supply chains.
Preempt Supplier Delays
It is essential to order First Communion products for your stores ahead of supply shortages. Ordering early allows you to preempt supplier delays before the First Communion season. By doing so, your store will be stocked and ready to meet the needs of customers shopping for items like jewelry, rosaries, Bibles, and other traditional First Communion gifts and merchandise. Since many of the products are manufactured overseas and shipped in, retailers could be affected by shipping delays in transit.
Get Ahead of the Holidays
First Communion is a special time for many families. It will be vital for them to celebrate this sentimental and meaningful event as they always have. Don't wait until January to order for First Communion. Get ahead of the rush of the holidays and stock up on First Communion items now. Families may want to purchase gifts along with their holiday shopping.
Guarantee Enough Variety of First Communion Gift Options
Buying in bulk ensures you have enough products to meet the demands of your customers amid global supply issues. Waiting to order will result in back orders and a limited selection. By creating a plan, you can determine display needs ahead of time and get a clear idea of the number of First Communion items you need to order. Buying your First Communion merchandise early will guarantee you have enough variety of options your customers can choose from. Anticipate your customers' needs by ordering multiple color and style options so that your customers can match accessories with attire and other coordinating items. Ordering early allows for this while waiting until later will limit selection availability. Certain First Communion items may even sell out altogether, so you may have to overpay if you find the products and forced to pass the price increase onto your customer.
McVan has First Communion Merchandise Available to Ship Now
To avoid all the potential problems mentioned above, order your communion gifts today and start planning for the First Communion season. Get ahead of the supply chain slowdowns and your competition. Ordering early and ordering in bulk will save you money and secure your retail store's First Communion merchandise inventory for 2023. If other First Communion retailers in your area haven't had the forethought to plan for spring, you are already ahead of the competition for 2023. Your customers will appreciate your early ordering when they find an impressive selection of Communion gifts. Order today to ensure your store is prepared for The First Communion season.