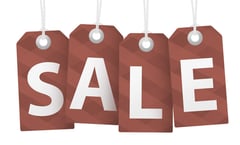 In retail, promoting seasonal religious gift deals can make a huge difference in your company's profit over the course of the year. It's important to think about seasonal promotions that pertain to holidays like Easter and Christmas, but it's equally important to include revolving hallmarks in peoples' lives like baptisms, first communions and confirmations.
Consider these 4 compelling reasons for expanding and promoting your seasonal deals:

Align Deals to Seasonal Peak Times
Seasonal promotions are all about targeting a consumer's natural inclinations around a certain time. They are an emotional appeal. Certain times of the year may invoke associations with religious gifts to certain religious holidays. Revolving promotions that highlight personal moments in a recipient's life may be slightly more difficult to pinpoint, but still valuable. Consider researching the peak times for first communions, confirmation, baptisms, and other activities to accurately gauge your promotional period and naturally appeal to your audience.



Highlight the promotion, don't keep it in the dark
Whenever you choose to highlight a certain religious gift or range of gifts for a particular reason, the customer is automatically drawn to that area. Even if a person does not enter your brick and mortar store or go online for that particular item, they are more likely to at least browse through your selection if you properly highlight the promotion. These promotions encourage purchases that can be kept until the right moment even if it's not in season.



Promotions doesn't mean discount
Depending on the time of year and the product line, your seasonal promotions may or may not need to be discounted for a successful sales bump. Some retailers may place certain items at full price, but position the promotion to be configured as limited quantity product, thus creating scarcity in the eyes of the buyer. The purpose of a promotion is to highlight a specific purchasing reason to encourage sales.


Above anything, always portray quality and value
With every promotion, quality and value play center stage. If you can relate information about the quality of an item and the value received during a promotional period, consumers who may have been disinclined to invest in a product will be more willing to look at reasons for purchasing. At McVan, we present value to our retailers by offering
lifetime warranty
to all our products.

To make the most of your promotions throughout the year, try to include a different promotion, such as a seasonal deal or a marketing spotlight, once every month. Rotating the promotions and keeping them consistent throughout the year helps companies boost sales in the short term but also has value over a longer period of time. Once you have determined which promotions work best around the year, you can continue to offer them every year. Your consumer base will start to plan for the promotions over time and become loyal to your brand.