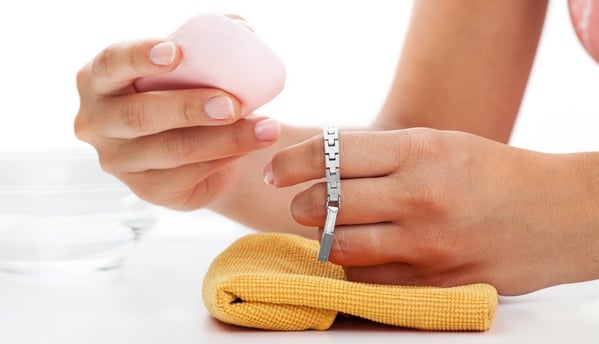 Sterling silver is a beautiful and durable metal that is made for everyday wear. Following a few basic use and care guidelines will ensure that your sterling silver jewelry gives you a lifetime of enjoyment.
Please keep in mind that detergents and lotions can slowly erode the finish off gemstones and cause stones to become dull. Keep sterling silver and precious gemstones away from chlorine bleach and all household cleaners. These will cause damage to the silver and stones. Jewelry should always be removed before swimming and washing dishes. Sterling silver is not difficult to take care of if you just follow a few simple precautions:
Storing your sterling silver jewelry
Storing sterling silver in the open air and humidity for extended periods of time can cause it to tarnish quickly. Tarnish first appears as a golden hue on sterling silver, then quickly turns to black. This is a normal process that is caused by oxidization and moisture from air and sunshine.
To reduce tarnish and keep jewelry tarnish free, it is recommended that sterling silver jewelry be stored in an air-tight protective bag made of tarnish proof cloth or a plastic zip lock bag. Although sterling silver jewelry is scratch resistant it isn't scratch proof, so it is recommended that jewelry be stored so that it isn't rubbing up against other articles, like in a loose drawer or jewelry box.
The natural oils from the skin help minimize the tarnishing of sterling silver items, so the more frequently a piece is worn, the less likely it is to tarnish.
Cleaning your sterling silver jewelry
Clean sterling silver jewelry with a soft 100% cotton (nub free) cloth or jewelry cleaning cloth and gently rub off any excess dirt or makeup. Sterling silver is a very soft metal and can be scratched if it is rubbed it too briskly. If a brush is needed, never use anything but a clean and very soft bristle brush, like a babies tooth brush or a horsehair silver brush. Paper, polyester, and coarse fabrics often contain wood fibers or synthetics, that can cause tiny scratches in the surface of fine sterling silver jewelry.
Another way to remove light dirt, fingerprints or makeup is to just add a small amount of mild liquid dishwashing detergent in a 1/2 cup of warm water, gently wash the item, and rinse thoroughly with clean fresh water. A soft bristle brush may be used to clean the corners or crevices of the item. Dry it completely before storing it in an air tight zip lock bag.
Should an item have a great deal of tarnish and need more cleaning than a polishing cloth can do, a deeper cleaning using a silver paste cleaner or a silver polish spray can be done. For deeper cleaning sterling silver without gemstones, first clean with a soft cloth to clean away excessive tarnish. Then the item can be cleaned using a dip polish cleaner or paste by following the directions with the cleaner Using dip polish cleaners or pastes on sterling silver without gemstones is safe and will not harm your sterling silver, however, many of these cleaners can be abrasive and should be used lightly.
If the item to be deep-cleaned has a gemstone, read the directions on the cleaning product carefully. Many of the sterling silver cleaners on the market today should not come in contact with most gemstones. If the stone is porous, the cleaner may be absorbed by stone and impact its appearance immediately. Even if the stone is not porous, the cleaner can dull the finish of the stone over time.
Deep cleaning sterling silver gemstone jewelry is often a combination of a soft cloth with mild soap and water for the stone area, and a gentle cleaning with a dip of polish cleaner on the other areas.
We hope that these guidelines will allow you to maintain and enjoy your sterling silver items for many years to come! And don't forget to view McVan's collection of fine Sterling Silver Products.