Whether you're having a great sales year or working hard to achieve one, McVan's experience with its entire retailer community proves one thing: Sales are maximized when four religious medals are never missing from your shelves.
No matter the time of the year - from new born, to married couples, to police officers, or just because - the Miraculous Medals, Saint Christopher Medals, Saint Michael Medals, and 4-Way Medals make great gifts and are always in demand.
Miraculous Medals
Fervent believers give miraculous medals for almost every occasion: Mother's and Father's Day, Baptism, Confirmation and Communion, Christmas, etc. For this reason, miraculous medals should always be in your inventory year-round.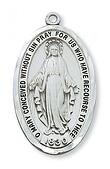 The Miraculous Medals came to life after Saint Catherine Labouré reported a vision of the Blessed Virgin Mary. Although is not an official teaching, it's believed that the medal can bring special protection at the hour of death. Many devotional followers have shared their experiences. According to the Miraculous Medal Magazine, a reader mentioned her future son-in-law survived a bad car accident thanks to a miraculous medal she had put in the back of his car. This is only one of thousands of experiences about the miraculous blessings and protection this medal has provided.
Saint Christopher Medals
Saint Christopher medals make a great gift, not only to travelers, but also for anyone starting a new chapter in their lives. Examples are: Newborns, Children taking ownership of their religious beliefs during their first communion, and Young Couples who promised to love each other forever.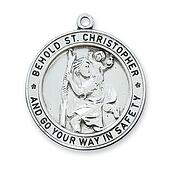 Saint Christopher Medals are actively worn by travelers to express their dedication and request for his blessing. In addition to being honored as the protector of travelers, Saint Christopher is venerated as one of the Fourteen Holy Helpers - a group of saints admired in Roman Catholicism. Hence, this medal carries the promise of health and well-being.
Saint Michael Medals
Saint Michael medals are an ideal gift for those who risk their lives or work tirelessly for our safety and freedom every day - Police Officers, Firefighters, EMT's, Soldiers, Healthcare Providers and more.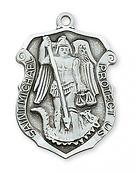 Saint Michael medals are a source of strength, safety and comfort. It's named after the Archangel Michael, who was the commander of the Army of God during the uprising of Lucifer. He is the patron of warriors and those who risk their lives to preserve safety and peace in our communities.
4-Way Medals
The beautiful four-way medal allows fervent believers to carry the protection of four medals embedded in one cross - the Sacred Heart, St. Joseph, St. Christopher, and the Miraculous Medals.

Traditionally, the four-way medal denotes the understanding that the devotion to Mary and the saints is not apart from Jesus. It is all within one's faith. The reverse of the medal often says "I am a Catholic, please call a priest." This message is traditionally included in case of an emergency to ensure that a priest is contacted to administer the Sacraments.
There are variants of the four-way medal that fit specific occasions. For example, some four way medals may have a dove or a chalice at the center of the cross, making a perfect gift for a Confirmation or First Communion.
Have each of these medals achieved "Never Out" status on your shelves?
We want to hear from you. Call McVan to Become a Retailer to discuss the order quantity that's needed to maximize sales in 2013.