For decades, men's tastes were overlooked when it came to jewelry and options were fairly limited, often merely extending to such basic items as a wedding band and a watch. Now is a man's time to shine in the accessories department, as predicted by major publications like GQ, The New York Times, and Men's Health.
With styles ranging from bold and trendy to effortless and classic, the question is no longer "can men wear jewelry" but "how can you get better at selling it?"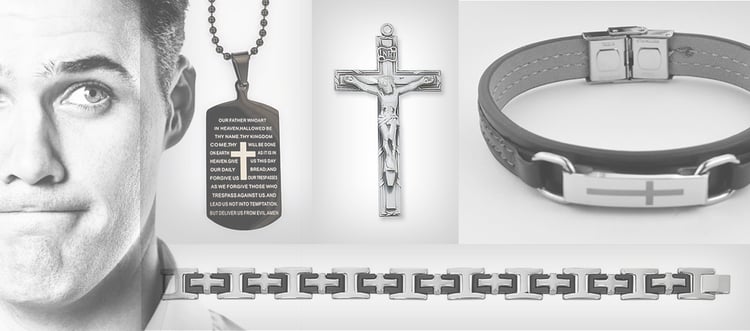 How to Sell More Jewelry to Men
While beautiful jewelry displays work well to attract women and entice them to shop, engaging men to shop for themselves – particularly in the jewelry department – often requires additional incentives. But how do you go about selecting the best lineup of men's Catholic jewelry for your store? Even more importantly, once you have a good selection in stock, how can you ensure it sells? Learn our tips for selling men's Catholic jewelry:


Keep the selection process simple. The ability to choose from a carefully curated stock reduces that feeling of being overwhelmed that many men experience when approaching a jewelry display. If you're tempted to add more diverse and unique pieces, do so on a limited trial basis.


Provide a dedicated purchase area. In-store, create a special boutique for men, built to house all your men's items Consider using colors and themes that appeal to a masculine audience. Online, create a dedicated category on your store's website designed to feature men's jewelry.


Choose products men like. While this may seem obvious – and easier said than done – appealing to your male clientele with men's jewelry is often as simple as highlighting the masculine construction of the products. Materials such as stainless steel, leather, and rubber showcase strength as well as style.


Encourage gift purchases. If your primary customer base consists of women, appeal to these customers by suggesting men's jewelry as gifts for the men in their lives. Occasions such as Father's Day, birthdays, Christmas, and wedding anniversaries are ideal times to gift men's jewelry.


Products to Get You Started
Whether you're introducing a brand-new men's jewelry display or looking to improve your existing sales, ensure your stock inspires your client base to make a purchase. That means starting with a strong selection of items men will not hesitate to wear. When it comes to Catholic jewelry, start with an assortment of classic pieces that appeal to a large percentage of your clientele. These are some of our favorite categories.


The Lord's Prayer Jewelry
The Our Father, also known as the Lord's Prayer, is known by all Catholics and holds such incredible meaning that a piece of jewelry imprinted with the prayer is destined to become a treasured piece.


Men's Our Father Dog Tag (NK197C). This dog tag necklace is inscribed with the Our Father Prayer and makes a casual statement as well as a wonderful gift. Each 1.75" tag includes an adjustable, black, stainless steel ball chain and comes mounted on a card.



Cross Jewelry
Cross jewelry items are some of our most popular products and can be a classic addition to everyday wear.
Men's Rubber Cross Bracelet (BR809). This black cross bracelet is suitable for any occasion. Constructed of rubber and stainless steel, the masculine stylings of this cross make it ideal for men. This bracelet measures 8" and comes in a gift box.

Men's Leather Cross Bracelet (BR962). Possibly the ultimate in masculine materials, this leather bracelet with stainless steel accents is truly timeless. Perfect as a gift for a special man and designed to appeal to male customers, this bracelet measures 8" and comes in a gift box.


Crucifix Jewelry
Another popular jewelry selection is the crucifix. This enduring symbol of God's love represents sacrifice and makes a thoughtful gift or an ideal purchase for any man.


Men's Sterling Silver Crucifix Necklace (L6032). This sterling silver crucifix rests on a 24" rhodium plated chain. Simple, yet sophisticated, this classic piece appeals to male buyers and makes a wonderful gift. Each necklace comes in a deluxe gift box.
Final Thoughts
With the recent advent in men's accessories, now is the ideal time to create a men's Catholic jewelry display in your store. You can rely on McVan to assist you in selecting a great lineup of men's Catholic jewelry to catch your clients' eye and keep them coming back for more!